The inauguration of the Eagle streamliner on March 10, 1940 is frequently recognized as the beginning of dieselization on the Missouri Pacific, Power chosen for each of the six car trains was EMC's early, slant-nose 2000 horsepower E3 units, numbered 7000 and 7001. The new motive power actually arrived on the property October 22, 1939, four months prior to the delivery of the actual train and spent the interim at the head end of the heavyweight Kaysee Flyer.

Mopac MPAA No. 7100 was custom built by Electro-Motive, with a baggage compartment in the space normally occupied by a second prime mover. This unit was destined for the Delta Eagle, which began service May 11, 1941 between Memphis, Tennessee and Tallulah, Louisiana.

In preparation for the inauguration of the St. Louis to Denver Colorado Eagle, MP ordered four, 2000 horsepower E6 locomotives (7002AB and 7003AB) from Electro-Motive. Delivered in October of 1941, well in advance of the June 1942 start of the new Eagle, the locomotives were delivered with the standard Missouri Pacific buzz saw logo on the nose. However, coincident with the start of the Colorado Eagle, the train name replaced Missouri Pacific in the logo and names of the two operators of the train were painted under the nose wings. We are offering this early version and also a later version that is appropriate for The Coach Yard's Colorado Eagle.

These hand-crafted locomotives will be available only factory finished - DCC decoder equipped, including constant intensity lighting, Mars lighting, speaker box for future sound installation, both open and closed pilots, Kadee® couplers installed, and full cab interiors. See your dealer to reserve yours now!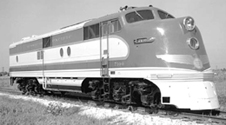 MPAA#7100 - EMD Photo


MPE6AB-4x #7003 - Photographer Unknown